Bedroom Equipment
Equipment and adaptations are available which may help you stay independent for longer. There is also support available to help you choose the right equipment or adaptation to suit your needs. For further details about assessment and assistance with minor equipment visit the Equipment and Adaptations page.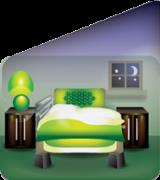 If spending time in bed is uncomfortable, or you find you are unable to do things that you used to, then equipment is available which may help you.
Some examples:
Cushions, supports and shaped pillows
Lifting poles and bed ladders
Limb supports, protectors and posture rolls/aids
Over chair and over bed tables
Reading and writing aids, magnifiers and lighting
Bed protectors, pads, pants and pressure relieving matteresses
Monitors and alarms
For a full catalogue visit the NRS Healthcare website.
Specialist furnishings are available to make using your bedroom easier.
Some examples of bedroom furnishings:
High back, reclining or specialist chairs
Standing from chair aids
Easy to use phones and remote controls
Reachers
Remote control plugs,sockets, extension leads and light fittings, timers and plug pullers
For a full catalogue visit the NRS Healthcare website.
Types of equipment available to keep you safe in the bedroom include:
Fall savers and alerts
Care call alert system
Pager alert systems
Movement monitors
Reminders and Prompts
Stair climbing and emergency evacuation soloutions
Movement and wandering monitors
For a full catalogue, visit the NRS Healthcare website.