Stairs and getting around the house
Equipment and adaptations are available which may help you stay independent for longer. There is also support available to help you choose the right equipment or adaptation to suit your needs. For further details about assessment and assistance with minor equipment visit the Equipment and Adaptations page.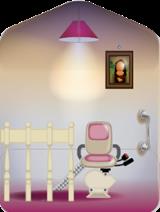 Moving safely around your home
It is important that you are able to move safely around your home. Some examples of equipment available:
Stair lifts
Stair climb and emergency evacuation
Grab rails
Monitors and alarms
Falls and wandering soloutions
Walking aids
For a full catalogue visit the NRS Healthcare website.