Staying Independent and Housing Options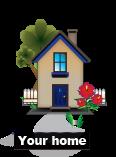 What help can I get in my own home?
There are many different types of equipment available to help you stay independent in your own home.
The types of equipment you may find helpful could be;
rails to help you safely move around your home
kettle tippers, easy to use taps or utensils for the kitchen
raisers for furniture to make it easier to get in and out of
adapted devices for sensory impairments
telecare
rails, seats and safety features for the bathroom or toilet
Some providers offer help with your daily living tasks, household maintenance and personal care. There is also help available, via an assessment, to assist your to choose the right equipment, care and support for your needs. 
Further details can be found in the Staying Independent section. Ideas for the types of equipment that might be useful to you in each area of your home are listed in our Equipment House page.
What housing options are available in Lincolnshire?
District Councils are responsible for the majority of housing needs however, if you have care and support needs there are a number of schemes available.
For general housing matters contact your local District Council:
For information about other forms of housing for people with care and support needs visit the Lincolnshire County Council website.
For a list of Care Homes visit the Home Care Agencies and Care Homes  section